How to Create Account Level/Global Email Filter in cPanel?
It's difficult to stop all the spam e-mails. But you can filter/scan it, discard/cancel it, change its directory at the back end. This article help you to create Account Level/Global Email Filter.
Firs, you need to signed in to your account.
Now, you find the "Email" area and select the "Apache SpamAssassin" text or click this icon shown in the given below.

Press the "Create a New Filter" button for custom scanning.
Now add the name of your Filter in the given textfield.
In Term and Conditions, you can filter/scan Email with many options, filter an Email which contains a word like "Lottery" or other words, then select Contains under the 2nd dropdown list of Rules, select "Body" from the 1st dropdown list.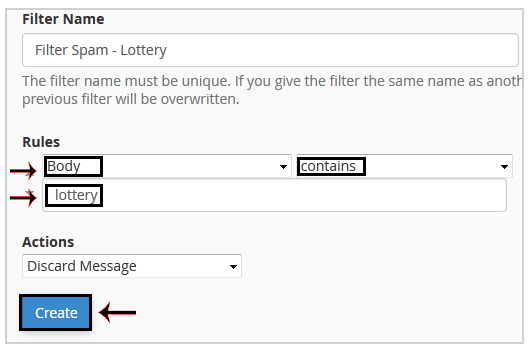 Select "Discard Message" option form the dropdown list of "Actions".
At last, press the "Create" Button for filter all the Emails.
Thanks for reading if you want to read about to delete account level filter or know about email auto responder then visit Email Responder.